Conquerors route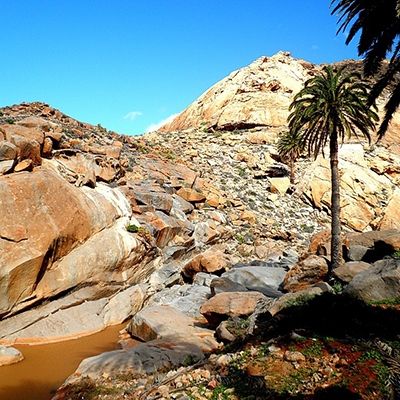 CONQUERORS ROUTE
Prices from 75€ (adults) / 40€ (kids)

Discover the history of Fuerteventura following the footsteps of the conquerors and enjoy the history and magic that surrounds life of the local people (they are named majoreros)
ITINERARY
The pick up point will be at the entrance of the lodging where you are staying, at 9:00. We will go to Betancuria where the history is explained and we will visit the Church. From there we will go to Vega del Rio Palmas where we'll visit the church and from there we will take a walk towards the ravine of Las Peñitas.

Here we will explain the appearance of the virgin. This route was chosen by the conquerors to begin the conquest of the island.
br>
Then, at 13:30 hrs we'll arrived to Ajuy, where we are going to have lunch at a local restaurant. The guide will also explain the surrounding area: geology of the area, fishing activity, the formation of caves and explanation of the lime industry. Br> At 16:30 the tour ends and we will return to the place of lodging
CARACTERÍSTICAS
Hour of the pick up: at 9:00, it takes 8 hours aprox.
Pick up point: At the entrance of your lodging.
Mondays
Languages: Spanish, english, french, german and italian.
It is recommended to wear comfortable clothes and footwear, and take sun-cream lotion.
Minimum of people: 8 people [Every experience is shared in groups of 8 people, unless you desire a private tour. If so, please contact us and tell us how many people you are by filling the form below. Don't forget to ask us the price for private tours.

It includes

Transport
Local and official guide
Lunch
READ CAREFULLY: Rules and Cancellation policy
It is recommended to be punctual at the pickup point (9:00 am). The maximum waiting time is about 10 minutes.

In case of cancellation on the same day of the excursion, we will charge 50% of the price to each person.
In case of cancellation within the 48 hours before, we will refund 100%.
We have the right to cancel the excursion in the event of a weather alert or due to force majeure. In this case we will refund 100%
HOW CAN I SIGN UP THE TOUR?
FIRSTLY You must contact us by phone or by filling the contact form where you request the date that interests you.
[Remember that this Tour is organised every tuesday]
Once you have received our approval, you can buy the tickets, by clicking the button BUY NOW that appears below the form.
*IMPORTANT: Please communicate any special requirements and restrictions (diets, allergies, mobility problems, etc.) from the time that you fill the form to book the tour. Ecoisla Fuerteventura is exempt of any responsibility in case of any imprudence derived by the lack of communication of the client with respect to any of the previous cases.
---
COMPRAR
Already received our booking confirmation? Then click on the button below to proceed with the payment